Frank's Scale Model Aircraft Art!
Tamiya Douglas F4D-1 SKYRAY 1/72 #60741!
I'll be building something like this version.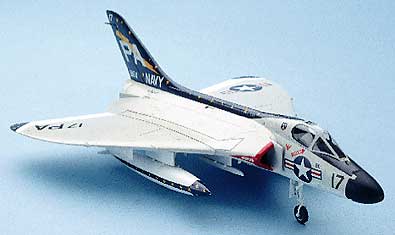 Small parts painted Tam paints Gray, White, Semi Gloss Black.
Underwing parts ready for paint.
Wing interior surfaces with certain details painted prior to assembly.
Kit Instrument panel on left. Decaled instruments in place with a coat of Alclad Flat sprayed on top. Right hand instrument panel is from CMK Cockpit set #7013 with photo film behind painted PE instrument panel. At 1/72 scale, these are very tiny.
Finished Kit Pit. I'm going to use this one as it mounts to the Nose Gear enclosure better.
Finished CMK Pit.
Cockpit assembled into nose section. Fit was very good.
Nose section and wing temporarily assembled.
Completed and ready for paint.
Alclad 2 Black Primer now sprayed with Harder & Steenbeck Airbrush as just serviced by John Miller.
Best Alclad 2 Black Primer job I've ever done!
Alclad 2 Chrome sprayed from the nose to part way back on the fuselage. Chrome on wing leading edges and fuselage top rib including rudder. Airframe Aluminum blended in on rest of wing from chrome band at leading edge area to and including ailerons.
Note reflection on left wing of my background scene. You can see the row of houses, blue sky, and white clouds and some of my dark wood wall paneling..
Various Alclad 2 shades added to some panels. These include Jet Exhaust, Axtec Bronze (my own proprietary mix), Aluminum, White Aluminum, Dark Aluminum, Dural, Magnesium, and Steel. It's now ready for "Color". Note again, some reflections of my color background can be seen.
Masked, and Gunze Clear Red applied.
Decals and other small parts added.
My 61st Build